On the lookout for a device to help you store your pants and trousers in a manner that keeps them easily accessible and safe from wrinkles and creasing? Keep all of your trousers, jeans, skirts, and various other bottoms comfortably in a closet, utilizing your space as efficiently as possible with our innovative rack.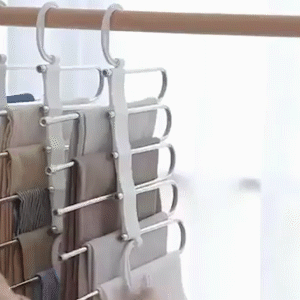 Multi-Functional Pants Rack has a non-slip coating that holds pant fabric firmly, allowing for easy browsing through a closet, but it also permits pants to slide off without sticking. It's a high-end hanger that's so much better than the common hangers and racks you'll find for hanging your trousers, jeans, skirts, and many more. The pegs are universal, sturdy, and won't snag. It's easy to select which trousers, jeans, or skirts you want with its ergonomic design, and you don't have to worry about annoying hooks or fussy clips. Believe us, your closet will thank you.
LONG-LASTING | EASY-TO-USE. Each hanger can hold up to 5 bottoms at the same time. Saves space in your closet that offers you more space to store other things. Designed to slide back and forth for hassle-free use. No need to worry about the damaging Multi-Functional Pants Rack. It is made with premium quality materials to last long.
SPACE-SAVING PANTS HANGER. Maximize to save your closet space and keep it clean and orderly. Each hanger can at least hold up to 5 pairs of jeans, trousers, or other clothing. Stronghold and won't cause any wrinkles and creases for your bottoms.
NON-SLIP METAL ORGANIZER. Protect your trousers pants and clothes from scratching and creases. Designed with high-quality stainless metal made to ensure durability for your comfort. Rust-resistant and sturdy construction. Smooth surface and scratch-resistant.
PERFECT SIZE | CONVENIENT. With its 15cm x 16cm x 33cm dimensions, you will love being able to hang more pants without having to worry about your closet space and you can easily save space in your closets. Compatible with all kinds of clothes. Perfect to hang your jeans, pants, trousers, ties, scarf, and many more which makes it compact and organized. Keep pants neat and organized on the poles for them to look tidy.
At Uneahome, your satisfaction is our priority.
 Every purchase comes with a risk-free 
30-day guarantee
. If you don't have a positive experience for ANY reason, we will do whatever it takes to make sure you are 100% satisfied with your purchase. We are always available for contact if you have any concerns and we will always make sure to right any wrongs.
How fast will you process my order?

Order processing time is about 1-6 business days.
When will I receive my order?

Due to the made-to-order concept of each creation, your order will typically arrive 7-20 business days after your order is placed.